| | | |
| --- | --- | --- |
| " | Your toilet is leaking into my toilet. | " |
Cardamon
Background information
First appearance
"Beach"
Latest episode
"Donut"
Voice
Alexander James Rodriguez
Inspiration
Honors and awards
Character information
Full name
Other names
Appearance
Age
Occupation
Student
Landlord
Affiliations
Goal
Home
Relatives
Unnamed mother
Pets
Sticky
Friends
Bee
PuppyCat
Minions
Enemies
Likes
Dislikes
Powers and abilities
Weapons
Toy Squeaky Hammer
Fate
[Source]
Cardamon is Bee's downstairs neighbor and landlord.[1]
Personality
Cardamon has a very straight and even business-like personality. He takes his job as Bee's landlord very seriously. He seems to be very mature for his age and takes full responsibility for Bee's home and has a distinctive professional sounding tone, which somewhat contradicts his childish voice.
Appearance
Cardamon has a youthful face and light purple hair. He wears pink shorts, odd colored socks (one having a darker blue shade than the other), a yellow dog backpack, a blue jumper with a white dress shirt underneath, and a yellow tie.
Abilities
Cardamon is seemingly able to fix things around the apartment using toy tools, such as apparently fixing Bee's toilet in "Beach" using a rubber hammer and a toy fishing-rod. He can also text on a phone and is shown to be proficient in origami.
Relationships
Bee
Bee is Cardamon's tenant in room 207. He seems to have a good relationship with Bee.
PuppyCat
Cardamon thinks PuppyCat is both soft and fat, which annoys PuppyCat. He also attempted to get PuppyCat and his dog Sticky together in hopes of becoming a prince so he could wake up his mom.
Cardamon's Mother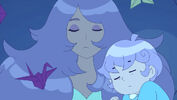 Cardamon's mother appears to be in a coma, and has been in it for a long time. Cardamon does his best to take care of her, creating origami figurines as gifts for her and bringing her several plates of candy as food. He seems to desperately miss her, as he snuggles against her multiple times.
Sticky
Sticky is Cardamon's dog. Sticky has yellow hair and wears a red, green, and blue bow tie. Sticky's gender is unclear, though it is implied she is female; when Cardamon wants PuppyCat to marry Sticky, he dresses Sticky in a bridal gown with a crown and bouquet of flowers. Sticky has an affectionate personality and likes to cuddle.
Appearances
Major appearances
Minor appearances
Mentioned
Comics
TBA
Trivia
In the storyboards, Cardamon has been featured with a bowl cut.
Cardamon greatly resembles Satori Komeiji from Touhou Project in both appearance and colourization.
Child actor, Alexander James Rodriguez, the voice of Cardamon, has a natural British accent.
Gallery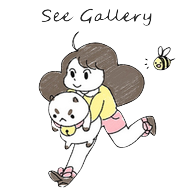 References